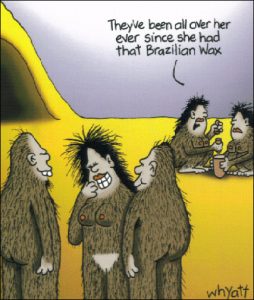 If you ever have any waxing stories you'd like to share, be sure to write those in the comments!
1. PICTURES ARE WORTH A 1,000 WORDS
My friends loved this story so I thought your audience might enjoy it too. My boyfriend bought me the Bikini Shaving Solution and I had not used it yet. I had been shaving my pubic area bald with store-bought shaving cream and the best razors I could find for years and could not wait to try your products to see the difference When my boyfriend was gone for a week for training, I let the hair grow in so it would make a better shave. I thought, why not surprise him and use the Bikini Shaving Solution right now? So as he was making the long drive home, I was getting ready for him. I took a nice long hot shower and then put the Bikini Shaving Solution to good use. The results were amazing, I was proud; it felt great and looked great also. I could not wait to share it with him, so I took a photo of my freshly shaved region and sent it to my boyfriend's phone with the caption, "think you can handle it?" He was not expecting this surprise while he was driving down the interstate. He was so shocked and surprised that he dropped the phone and he had to pull over to find it and regain his composure! Needless to say the shave job was loved by all and we will be ordering more of your products in the future.

-Rebecca, VT
2.A SLIPPERY PROPOSITION
I decided around the age of 17 to start shaving down there. One time in the shower I found out that to shave that area proved to be VERY difficult. As I was trying to get the right angle I stepped backwards and realized I had forgotten about a bar of soap I had accidentally dropped. I fell harder then a sack of potatoes. I think the house must of shook because my mom came rushing into the bathroom to see if I was all right. After she stopped laughing at the sight of me, she took me to the store and bought me some hair removing wax!
3.A HAIR-RAISING LUNCH BREAK lol winner
I'm at my office, during lunch, talking with some co-workers about nothing particularly important. I was trying to figure out what to do with my lunchtime since I wasn't hungry. So while standing by a friend's desk, I noticed a brochure for an eyebrow waxing. I decided, "Hmm, maybe I'll go and get my eyebrows done". I headed over there, get my eyebrows waxed, and after I'm finished the lady asked (with an accent) "you want other wax?" I was feeling daring, so I said "YEAH… lemme get a… BRAZILIAN". I have never had a Brazilian wax or anything like it in my life before. The lady took me to a back room, asks me to strip and begins the process. What followed was a series of rips, many low grunts from me and finally the lady saying "it hurting me that you grunt. I stop now". I left there bare, red & with a new appreciation for the feeling of wind on my… all on my lunch break!

-Sachie, GA
4.A HUNKA, HUNKA BURNING LOVE
For our 1st anniversary my husband and I decided to "bare it all down there" as we had read an article in Cosmo magazine that if you "went bare down there" it would heighten the sensations of sex. So, off to the store we went. I decided on a wonderful raspberry scented depilatory cream and he opted for the sensitive skin formula. When we got home we spread out two sheets in the living room floor and proceeded to help each other apply our respective depilatory creams. Picture two grown adults lying naked, spread eagle on the living room floor with only depilatory cream to cover our "naughty bits". A few minutes after applying the creams my husband started to complain of a burning sensation. I told him it would go away, as mine did not burn. A few more minutes went by and he again complained, through gritted teeth, that it would hurt less if I were to poke his eyes out with a hot poker. We went to the bathroom to clean him up after a few more minutes of pain and non-stop whining. We were are standing in the bathtub with my husbands private parts soaking in a cup full of cold water, that I was graciously holding for him, while he complained that he is sure we just burned his "naughty bits" completely off. After all that pain and effort the "heightened sensations" we were so wanting never appeared. The only difference we noticed was some "loud noises" where we were bare "down there".

-Misty, AR
5. ANOTHER WILD WAXING
All hair removal methods have tricked us with their promises of easy, painless removal – The epilady, razors, Nair and now…the wax.
My night began as any other normal weekday night. Come home fix dinner, played with the kids. I then had the thought that would ring painfully in my mind for the next few hours: Maybe I should pull the wax out of the medicine cabinet.

So I headed to the site of my demise; the bathroom. It was one
of those cold wax kits. No melting a clump of hot wax, you just rub the strips together in your hand and then they get warm and you peel them apart press it to your leg (or wherever else) and hair comes right off. No muss, no fuss. How hard can it be? I mean I'm no girly, girl but I am mechanically inclined enough that I can figure it out. *YA THINK!!!*

So I pull one of the thin strips out. Its two strips facing each other
stuck together. Instead of rubbing them together, I get out the hair dryer and heat it to 1000 degrees.

Cold wax my rear end (Oh how this phrase haunts me!)

I lay the strip across my thigh. Hold the skin around it tight and pull.

OK so it wasn't the best feeling, but it wasn't too bad. I can do this! Hair removal no longer eludes me! I am She-ra, fighter of all wayward body hair and smooth skin extraordinaire.

With my next wax strip I move north.

After checking on the kids I sneak back into the bathroom, for the ultimate hair fighting championship. I drop my panties and place one foot on the toilet. Using the same procedure I apply the was strip across the right side of bikini line, covering the right half of my vagina and stretching down to the inside of my butt cheek (Yes, it was a long strip) I inhale deeply and brace myself. RRRRIIIPPP!!!!
I'm blind!!! Blinded from pain!!!!….OH MY GOD!!!!!!!!!
Vision returning, I notice that I've only managed to pull off half of the
strip. S&%T!!! Another deep breath and RRIIPP.

Everything is swirly and spotted. Do I hear crashing drums??? OK, back to normal. I want to see my trophy – A wax covered strip with my hairy pelt, that has caused me so much pain, sticking to it. I want to revel in the glory that is my triumph over body hair. I hold up the strip!

There's no hair on it.

Where is the hair. WHERE IS THE WAX??? Slowly I ease my head down, foot still perched on the toilet.. I see the hair..The hair that should be on the strip. I touch. I am touching wax. S&%T I run my fingers over the most sensitive part of my body, which is now covered in cold wax and matted hair.

Then I make the next BIG mistake……………….remember my foot is
still propped up on the toilet. I know I need to do something. So I put my foot down. DAMN!!!!!!!! I hear the slamming of the cell door. Vagina? Sealed shut. Butt?? Sealed shut. I penguin walk around the bathroom trying to figure out what to do and think to myself "Please don't let me get the urge to poop. My head may pop off.

" Hot water!! Hot water melts wax!! I'll run the hottest water I can stand into the bathtub, get in, immerse the wax covered bits and the wax should melt and I can gently wipe it off right??? *WRONG!!!!!!!*I get in the tub – the water is slightly hotter than then that used to torture prisoners of war or sterilize surgical equipment – I sit. Now, the only thing worse that having your nether businesses glued together is having them glued together and then glued to the bottom of the tub. In scalding hot water. Which, by the way, doesn't melt cold wax.

So, now I'm stuck to the bottom of the tub!! God bless the man that convinced me I should have a phone in the bathroom!!!!! I call my friend thinking surely she's waxed before and has some secret of how to get me undone. It's a very good conversation starter "So, my butt and who-ha are stuck to the bottom of the tub!" There is a
slight pause. She doesn't have a secret trick but does try to hide the
laughter from me. She wants to know exactly where the wax is located on bottom "Are we talking cheeks or hole or what?" She's laughing out loud by now…I can hear her. I give her the rundown and she suggests I call the number on the side of the box. YEAH!!!!! Right!! I should be the joke of someone else's night.

While we go through various solutions. I resort to scraping the wax off with a razor. Nothing feels better then to have your girlie goodies covered in hot wax, glued shut, stuck to the tub in super hot water and then dry shaving the sticky wax off!! By now the brain is not working, dignity has taken a major hike and I slip into glazed donut land. My friend is still talking with me and my hand reaches towards the saving grace….the lotion they give you to remove the excess wax. What do I really have to lose at this point. I rub some on and OH MY GOD!!!!!!! The scream probably woke the kids, scared the dickens out of my friend, but I really don't care. "IT WORKS!! It works!! I get a hearty congratulation from my friend and she hangs up. I successfully remove the remainder of the wax and then notice to my grief and despair…………………………….

THE HAIR IS STILL THERE…………………..ALL OF IT!!!!!!!!!!!!!!.
So I shaved it off. Heck, I'm numb at this point.
Next week I'm going to try hair color……

-Anonymous
6. A FRENCH HEART
I was at a guy friend's house with another good friend, her very free-spirited French co-worker, and a few other of my close male friends. We had all had a few too many glasses of wine and the French woman started espousing the wonders of a good shave/wax job down there. She was especially skilled at making cute hearts, her husband proudly announced. I admitted that I'd never done much in the way of pubic grooming. Suddenly, I was being bombarded by encouragement from everyone. I turned around to find my guy friend at the ready with fresh razor, towel, shaving cream and a goofy grin. I'm pretty adventurous, so glass in hand, pulled up my skirt and let the French woman go to town amid cheers from my friends. The heart turned out great. Over the next several weeks and months I would get passing comments from friends of friends– 'How's the heart?' 'I hear you like French wines.' and wonder who had told them about the silly evening. To my shock and horror, I discovered that my guy friend had posted a slide show on his computer of photos he had taken without me realizing. Everyone who came over his house had seen them! I have since forgiven him and together we made a mock advertisement of the "priceless" commercial using one of the more risque' pictures: "Razor-6 dollars, shaving cream-4 dollars, French wine—18 dollars, witnessing your gal pal getting her naughty bits shaved by a French woman-PRICELESS!"

– Rachel
7. A SORE SMOOTH
I had been shaving down there for a particular special person I had been dating. The frequency of it kept leaving me with a "5 o clock shadow feel" and I was desperate to get a very smooth, subtle feel for a super special weekend. I decided to try Nair. I applied it all over down there, all secret places, for a really smooth finish. Well needless to say, when I rinsed it away, I was more than smooth, but within minutes smoothness turned to a severe burning sensation, which then stared to blister! I was in sooooo much pain that NOTHING at all could happen that weekend. I was not only in pain, but had to explain why. Thankfully he was very understanding and we did experience intimacy in different ways, but boy did I learn a lesson!!!!!!!!!!!!!!!

Signed, No more Nair down there!!

-Nancy, OH
8. BROTHERLY LOVE
My first thought was that I'd never share this story because this stuff never happens to anyone but me. Of course at the time I'd never heard of your website and didn't know that this sort of thing was common. I got married very young and was still living at home with my parents and brothers at the time. So it was the night before my wedding and I'd just gotten back from my bachelorette party and knew it was time to "get ALL ready" for the wedding night. I was planning on creating a heart down there and since I had never done this before and didn't really know what I was doing it took a lot of work and pain. I used Nair, scissors, wax, razors, lotion, every lousy product I could find to try and make it look perfect for the big night. I was in the bathroom for over an hour and what it ended up looking like was red, swollen, itchy, and misshapen. So crushed and exhausted I went to bed…without cleaning up. Unfortunately, my brothers were the first ones to use the bathroom in the morning. They reacted as only brothers would by telling EVERYONE about all the products and hair that they had found. I didn't know this until my new husband saw the "results" and said, "So this is what everyone was talking about." Now our anniversary is coming up and shortly after that my Marine husband is leaving for Iraq and I'd like the chance to try again.

-Jayme, CA
9. STYLE BY HOSPITAL
My worst experience with shaving down there was done by a nurse in preparation for a Caesarean. I argued with the hospital staff to let me do the shaving… and then for my boyfriend to…. In the end the staff won when they gave me an epidural, but I was heard down the hallway yelling, "This isn't very sexy!"

-Kythryn, BC, Canada
10. GRANDMOTHER GETS EXPOSED
My husband and I have been together for over 15 years and have a pretty comfortable home and lifestyle. We have two yorkies, a small home, and both have kids from previous marriages. All of them are older and have moved away from home. We both enjoy our simple, quiet lifestyle; our privacy and our active sex lives.

One day his daughter informs us she and her daughter are moving in with us for a little while. It's a little cramped, but you do what you've got to do for family. This of course has put a little cramp in our privacy and ultimately our sex lives. Then a few weeks later my daughter is having issues and she and her daughter move in for "a little while." So we are busting at the seams with four adults, one teen, one three-year-old and two yorkies…….and NO privacy. Then one blessed day I find out that everyone is going away for the weekend tomorrow. YEAH, ok, so find the candles, plan a nice dinner and don't forget to shave!! I am in the bathroom and using my electric razor behind closed doors…..getting primed for our big weekend. The dogs of course hear this and start barking! My three-year-old granddaughter comes upstairs to find out what all the ruckus is about.She opens the door to the bathroom (I didn't think to lock it) and sees me in all my glory.

So her Mom comes up to find kid, husband tries to quiet dogs, and the other two are just curious. Now everyone is looking at everyone, dogs stop barking. Mom asks what is going on and the three-yea -old ever so innocently announces in a very loud voice "O, Nanny is just shaving her POE" (that's what she calls it)

I wanna crawl in a hole, I wanna run away…
We did have a wonderful weekend alone and had a good laugh about it. I think the 15-year-old will be in therapy for awhile to get over this one! How do share with your teen friends that your Grandmother shaves her hair down there!

-Nany, Canada
11. ALL IN THE NAME OF ART
Shaving down there has never been a pleasant experience for me. The few times I tried it, I got painful ingrown hairs and irritated skin. At one point, times were lean and I spent weeks trying to get a nude modeling gig for an art class for extra money. I finally got a call to come in the next day to fill in for a sick model. Since I was pretty hairy, I decided to clean up the edges a bit with Nair- the kind formulated for down there, I might add. While applying it, it smeared further over than I had planned, so I did the same on the other side to match- but that smeared, too. This happened back and forth a few times. By the time I was done applying, I had nothing but this little tuft left, like a Treasure Troll's hair.

I decided I'd get the scissors for that, and let the product work. Well, I had your typical hideous reaction- searing pain, missing patches of skin, and a bright red mound! I was in too much pain to even think about the scissors for the tuft. The next morning, it was worse. All the missing patches of skin were oozing, it was really gross. So, I sprinkled some baby powder on, for camouflage. Except the powder caked in big clumps. All the bowlegged limping around to get ready and applying the powder had me running late, so no time for scissors. And of course, this is when my period started, just as I was about to leave, far too late to cancel.

Once I arrived at the class, I noticed the powder was randomly falling off, in small and large clumps. So, for my one -and only- time to pose nude in front of an art class, I stood there with my tufted red mound with white patches, looking for all the world like some weird poisonous mushroom lamp, complete with an on/off tampon pull string, powder falling like bad dandruff, avoiding eye contact with the entire room, and mentally chanting "Don't scratch, don't cry." Changing poses without rubbing the area must have been hysterical to see, as I moved v-e-r-y slowly and deliberately. I have not done anything down there since— can you blame me?

-Michelle, AZ
12. SO MUCH FOR MODELING
I work as a nude model for college-level art classes. I get professional Brazilian waxes and shave in between to keep things clean. One morning, I was running late and had to shave quickly with my awful disposable razor and old shaving cream. Apparently, I cut myself several times but just thought I had really bad razor burn from doing a slipshod job. I arrived at the college, ready for my first class of about 30 students, stripped down, and began doing the short poses. On the second or third pose, I had my back to the class. I heard a few giggles and a loud gasp. I tried to just ignore it, maintain professionalism, and hold the pose. But I quickly found out what had shocked them when the instructor asked me if I was alright. I followed her gaze to my backside where blood had caked between my cheeks and run down one of my thighs from where I had cut myself! To make things worse, I am booked there weekly for the entire rest of the semester.

-Brookelyne, AZ
13. NO SALAD TONIGHT
I was visiting my Grandma and had asked to borrow her scissors, not telling her what I needed them for. I heard her rummaging around in the kitchen and figured she was getting them out of the utility drawer that she throws all her misc. junk in. So I went to my room and trimmed my hair down there and then went to take a shower to finish up with a shave. I left the scissors on my bed when I went to take my shower. When I got out of the shower they were gone!!! What the heck. So I got dressed and went out to find my Grandma tossing a salad. The scissors were sitting on the counter right next to the salad bowl. She asked if I needed them back. She said she hadn't wanted to bug me while I was in the shower but she needed to use the scissors to cut up LETTUCE for the salad. Needless to say I didn't eat any salad that night. Thank God no one complained of any hair in their salads. :0)~ What could I have said? I would have never heard the end of that story.

-Jamie, TX
14.NO MORE WAX
After a recent shower I decided this would be a good time to wax 'down there'. Now the reason I chose waxing over shaving is that when I shaved before there was that horrible itching. Also, the few times I had tried waxing 'down there' it seemed to work out pretty well. No stubble and very little itching. It's just the process of waxing that is a deterrent. So, with the anticipated pain in mind I prepared the first strip, applied it to the chosen area, rubbed the strip three times in the direction of hair growth, just like the product instructed, and ripped the strip off in the opposite direction. This was followed by the immediate, breath-stopping pain that was expected. However, this time it didn't fade away as quickly as it usually did. Also, the wax strip did not have a single hair on it! Eventually the pain died down a bit so I set about cleaning off the wax that was still in my hair. The whole time promising that I will never try waxing again .The next thing I know, I notice that there is a bit of blood in the water. Soon the bit of blood starts to look like a lot of blood and now I'm beginning to worry. So, very gently I wash out the remaining wax and grab a compact mirror on the way out of the bathroom. I sat down on the couch to check out the damage. It turned out that I had ripped one inch of the tissue in a really delicate area. So, now I'm really feeling like an idiot and wondering how many people have needed stitches on their genitals. I decided just to sit quietly for a few minutes with my legs closed and try to think of a few plausible stories to tell my gyno on Monday for what seemed like an inevitable appointment. But after half an hour it didn't hurt any longer and the bleeding had stopped. It's almost completely healed now and it never interrupted my work out schedule. So, there's the story and while it may seem traumatic I was able to start laughing about it after a day or two. However, I clearly need a Hair Care Down There kit!

-Joyce, AZ
15. REFORMED CHEMICAL MAVEN
I RECENTLY TRIED THE DEPILATORY METHOD OF HAIR REMOVAL. NO NAMES. THE PACKAGE SAID SAFE, GENTLE, NO SMELL, YEAH RIGHT. IT SMELLED FAINTLY LIKE CUCUMBER AND A LOT LIKE BURNING INSULATION. MUST BE THE HAIR. IT WAS FORMULATED SPECIFICALLY FOR THE BIKINI LINE AND I HAVE USED THIS METHOD FOR MY LEGS AND TRUSTED THIS BRAND. I CHOSE A PATTERN TO FOLLOW AND READ THE INSTRUCTIONS AND THEN BEGAN TO APPLY THE PRODUCT. AT FIRST IT WAS JUST A MILD TINGLING BUT BY THE TIME I HAD APPLIED THE LOTION TO THE CHOSEN AREA THE TINGLING HAD TURNED INTO AN INTENSE BURNING. I RAN SCREAMING TO THE SHOWER TO ATTEMPT TO WASH THE STUFF OFF. I AM THOROUGHLY CONVINCED THIS WAS A LETHAL COMBINATION OF NAIL GLUE AND ACID. I LITERALLY HAD TO SOAP UP AND SCRUB NOT ONCE, NOT TWICE BUT THREE TIMES BEFORE ALL RESIDUE WAS GONE. AS SOON AS AIR HIT THE "AREA" I REALIZED I WAS IN TROUBLE. THERE WERE NOT ONLY RED, IRRITATED AREAS, BUT PLACES WHERE THERE WERE OPEN LESIONS ON MY SKIN. IT TOOK THE BETTER PART OF A WEEK TO HEAL, SANS UNDERWEAR, SINCE WE ALL KNOW THAT ELASTIC FALLS RIGHT ON THE BIKINI LINE. I WENT THRU TWO TUBES OF DIAPER RASH CREAM FOR RELIEF. IT TOOK A FULL SIX MONTHS TO RECOVER FROM THAT EXPERIENCE BEFORE I WOULD EVEN CONSIDER SHAVING AGAIN. TALK ABOUT A HAIRY, SCARY. I LOOK FORWARD TO ORDERING AND TRYING YOUR PRODUCT IN THE NEAR FUTURE AND WILL LET YOU KNOW OF THE RESULTS.

-Christine